I consider myself quite an independent traveller, and at times in the past I've been frustrated by tours that felt too restrictive. But when it came to visiting Borneo, I knew I wanted to be part of a group, and it was unquestionably the right decision. I'm glad I let Intrepid introduce me to this incredible island.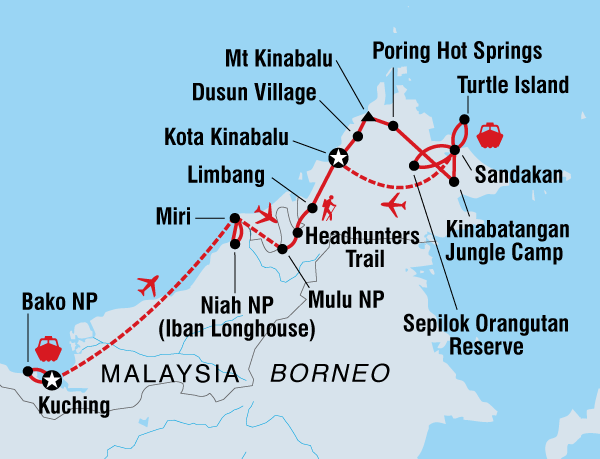 My trip to Borneo was a 21-day tour beginning in Kuching, in Sarawak, and ending in Kota Kinabalu, in Sabah. Although I was signed up for the full 3 weeks, the trip actually divided into two parts; Wild Sarawak and Sabah Adventure. Borneo is somewhere I had wanted to come for years, and flying over the clusters of jungle-hugged islands scattered across aquamarine bays, I fell instantly in love.
Kuching was, as I had expected, a pretty average city. Average if you've spent the last few months in southeast Asia, anyway. It's most notable feature was an enormous cat statue in the center of a roundabout near my hotel – apparently Kuching translates as city of cats. The city was a little dirty, but much calmer than the Thai roads I'd just come from, and the absence of tuk tuks was notable.
My new tour guide met us in the hotel lobby that evening. The group chat went ahead as always with Intrepid – itinerary, safety, money, and so on. I had heard this spiel three times now, having done other tours elsewhere on my trip, so it was a little dull for me, but a necessary evil. My attention returned as the conversation turned to the more strenuous aspects of the tour – something that was new to me in this trip. Over the next few weeks we would trek through thick jungle in 100% humidity, climb the highest mountain in southeast Asia, and live to tell the tale of the torrential longboat ride that seemed as though it would never end. We would contend with leeches, angry macaques, altitude sickness and dislocated limbs. Perhaps the health and safety briefing wasn't so dull after all.
That evening we went out for dinner, and Ronnie and Donnie (you can't make this stuff up) our new guides, took the small group through Kuching – which was considerably scarier in the dark – to the most unlikely restaurant, in what seemed to be a run-down shopping centre. Looks can be deceiving though, and perhaps it was partly that I'd had one of the longest days of my life, but that meal was the best thing I had tasted in months. We ate, we had a few drinks and the group got to know each other.
Bako National Park
The next day we began our tour properly, heading out to the docks, to take a boat to Bako National Park where we could hike in the jungle. Our two guides (Donnie was learning the ropes from the more experienced Ronnie), led us expertly through the days' multiple forms of transport, and we and all our belongings made it safely to Bako National Park. That afternoon, after dropping off our bags, we set out on an afternoon hike to explore the surroundings. We started out walking through jungle before emerging onto a dusty outcrop and down to a small secluded beech where we ate our lunch. We explored the (almost) paradise beach – I say almost because even here, the evidence of humans is present in the form of a worryingly large amount of litter washed up on the beach – and one of the group even found a sea snake!
Back at the lodge, we settled in and showered before meeting the group for dinner. Out here in the jungle, the group started to bond a little more. We ate a hearty dinner together in the slightly strange cafeteria of the lodge, and then went to bed.
Semmenggoh Orangutan Sanctuary
The next day, after some (optional) early morning proboscis monkey watching, we clambered back on our boats and headed back to civilisation. That afternoon, we were collected and taken to Semenggoh Orangutan Sanctuary, for one of the most magical afternoons of my life. The sanctuary guides were fantastic and we were able to see these incredible apes close-up and calm. The sanctuary rehabilitates injured and orphaned Orangutans before releasing them into a semi-wild reserve. Here they can roam freely, but may choose to come to the feeding stations for extra food from the staff. So seeing them truly still feels special – the Orangutans don't have to show up every day, and there is never any guarantee they will. That being said, Orangutans, much like humans, will usually turn up when there is food on the table.
Longhouses in Miri
From Kuching we headed north to Miri, where we hiked into the jungle to meet our longhouse homestay family. First, we walked to visit some impressive cave formations.
I found this day particularly tough – the weather was horrible to us as we walked into the forest, and the wooden board walks we were using were slippery with moss from the moist conditions. Although it was undoubtedly easier than walking on the terrain below, even with walking boots on it was hard to grip. Turns out one of my least favourite things is the feeling that you might slip over. Visiting the caves was even worse on that front – so I spent most of the day nervously inching forward on slippery surfaces and looking forward to the day being over.
So, this wasn't my favourite thing. But when we finally arrived we were welcomed warmly into our longhouse homes for the night, and everything seemed better after a rest and a shower. That evening we got to know our hosts, enjoyed traditional drinks and ate a delicious home-cooked meal. After a long day, we went to bed merry but exhausted.
The next day we packed up and headed back out of the jungle, back across the slippery boards, although thankfully this morning the rain had finally ceased. I was particularly slow on these boards, and one of the guides was eager to rush off ahead, but thankfully the other guide stayed behind and helped me through.
Mulu National Park
Next on the itinerary was Mulu national park, where we would spend two nights. We flew into the small airfield and drove to the lodge from there. We drove past a restauarant on the way in and the guide pointed out that this would be our spot for dinner that night. Our accomodation here was lovely – wooden lodges set in amongst the trees, with walkways leading directly into the forest. We went for a short walk around the grounds that afternoon, gaining some botanical expertise along the way from one of the park guides. I know very little about botany, so I learned a lot, but I think I also managed to teach the guide one or two things about ants, so I felt I'd done my bit for the day.
That afternoon we walked out to some more cave formations – these were drier than those in Miri, so I was happier. Here we saw a cave eel, and then stuck around to see the famous sight of bats flying out of the cave en masse as dusk arrives. Along with a surprisingly large number of other tourists, we walked back to the lodges in the dark. Just as we got back, it started to rain, so we were grateful to get inside!
That evening we went out for dinner as a group. Although we'd had a few tough days so far, this meant we were starting to pull together as a group, and eating together with the guides every night did a lot to keep up morale and give a sense of inclusiveness.
The next day we had free, so as a group we decided to take a hike out to a nearby waterfall, where we could swim in the river. It was a lovely walk, the forest was wet from the rain the night before, but today the sun was out. A couple of leaches later and we reached the river. We found there was a small wooden hide built, which we sat in and inspected ourselves for leeches while some of the braver members of the group swam in the river.
After two nights it was time to leave Mulu national park. The weather had been getting worse, and some tours that tried to fly in just a day later than us were unable to land. It seemed we had been lucky. But there was a price. The route out from Mulu was the headhunters trail. We left by boat, and took a short ride 30 minutes down the river.
Our first stop on the way out of Mulu was a small village, where we had the opportunity to buy some local crafts (the guide helped me haggle for my gorgeous carved blowpipe) and test out their traditional weapons, including an enormous blowpipe set up with a target. It was actually much easier than it looked, although I didn't manage to hit the target with any of my three darts.
The Headhunters Trail
After another stop-off at a cave, we began our trek to Camp 5. About four hours later we arrived, exhausted, dripping with sweat, and suddenly accutely aware of how heavy our bags were. We'd left a lot of our stuff behind to be returned to us in Limbang, after the trek, but still my bag felt like it weighed a tonne. The jungle was fairly easy terrain to walk on, although you had to keep your eye out for fallen logs and the odd venomous creature, and cross the odd stream using algae-covered planks of wood. The hardest part was the oppressive humidity – 80 to 100% in places. It leaves you feeling breathless and unbearably hot – your body unable to successfully lose heat through sweat evaporation, you simply drip with it after just a few minutes of physical exertion.
Finally we arrived at camp 5. Accomodation here was basic but functional – we slept communally in longhouses, with individual mattresses and mosquito nets set up along the length. The camp was set immediately next to the river and it was simply beautiful. About an hour after we arrived, the rains came in, and we watched from the safety of our longhouse as it rained torrentially for hours. With little else to do, we played card games and Jenga and ate some dinner. We were all eager for an early night after a long day's trek, with another long day ahead.
We started our day with a several-hour trek to the site where we would board the longboats for our highly anticipated ride. This was another hard walk through humid conditions, and the weather was trying to rain, on and off. Finally, sweaty and exhausted, we arrived at our destination. We hopped on the boats and took a short ride to our spot for lunch. Here we had some lovely food and as we were eating, the heavens opened once more.
Unperturbed, our guides helped us onto the traditional longboats, where we would be sitting, single-file on sawn-off plastic chairs (like the ones you get at school) for the next few hours. It was still pelting it down with rain, so we'd covered up our bags thoroughly in waterproofs and bin liners, and covered ourselves up in all the warm and waterproof clothes we had with us. Perhaps, had the weather been different, this would have been one of the most magical parts of the trip. But in torrential rain, this was the longboat ride from hell. Unable to move for fear of tipping the boat, hunched over and covered completely in waterproofs, I waited for it to be over. Cold, wet, worried that all my electrical were being slowly soaked. It felt as though this ride would never end.
But end it did, eventually. After about three and a half hours we finally arrived at a village where the boats pulled up and we were able to get off. Typically, the rain began to subside almost as soon as we got off the boats. Here, as we waited for the cars to pick us up and take us to our hotel, we slowly became human again. We peeled wet layers off, we inspected the waterproof integrity of our camera bags. After what seemed like forever, the cars picked us up and carried our wet, exhausted bodies to Limbang.
Limbang isn't much to speak of, but as we walked into the fairly nice hotel, dressed in our muddy, wet hiking clothes and smelling like god knows what, I felt we looked a little out of place. But finally it was time for that highly anticipated shower, and a return to some kind of normal feeling. It was here I discovered that I'd gained two leeches on the walk – one on each ankle, but that thankfully I'd crushed them in my shoe whilst walking. I found them both dead in my shoe when I got back to the hotel room.
Pretending to ignore the issue of how on Earth I was going to dry out my walking boots or my clothes before we left again tomorrow, I went out for dinner and a couple of drinks with the group. Today had certainly created a new bond between us.
Survivor Island

Our reward for surviving the headhunters trail was Surivor Island – a beautiful tropical island with hot mud springs to soak our tired bodies. After a motion-sickness-inducing (almost, thankfully not really!) speed boat ride we arrived on the island and set up in our lovely individual beach huts. We had a fantastic meal and a few drinks and relaxed after a hard few days in the jungle.
The next day the sun came out and the group made the treacherous walk to the mud springs to test them out. Treacherous because it was about a mile, up hill on a muddy track, with thousands of tiny thorns embedded in it. For the sake of keeping mud off our clothes, we needed to walk up there in our swim suits and flip flops and nothing else, but flipflops were impossible to walk in, and bare foot although the grip was better, there was the constant risk of thorns. You couldn't see them in advance, you just had to hope.
I am pleased to report, however, that the journey was worth it. The mud springs were a great, if rather strange, experience. After days of trekking, we enjoyed a little down time and floated about in the geothermal mud for some time.
Kota Kinabalu
After survivor island we headed up to Kota Kinabalu, where the first half of the trip ended and the second half began. Here was a chance to rest, relax and reset the system before the next big challenge – Mt Kinabalu. The group also grew here – we lost two from the first group (they'd only signed up for the first tour) and gained 8 new group members – including two of my friends from home. Kota Kinabalu is a nice enough city – a little nicer than Kuching, and a perfect place to stock up on supplies and have some time off before heading back into the jungle.
From Kota Kinabalu we drove out to our second homestay, in the shadow of Mount Kinabalu. Here we had a fantastic afternoon and evening – we learned to make rice from scratch, practicing the traditional methods for sifting and processing the rice straight from harvest.
In the evening we ate a delicious home-cooked meal and then some of the local children sang for us and we joined in for some traditional dances. The atmosphere was good, and although this was a dry homestay, it was an entertaining evening that we all enjoyed.
The next morning we got a Bornean cooking lesson and the group prepared our lunch together. It was a surprisingly tastey meal and the new group began to gel. Being much larger, it was never going to have the same cohesion of our first tour group, but it was a good group nonetheless.
Climbing mount Kinabalu was an amazing and challenging experience, which I will talk about in depth in another post. Intrepid's tour gives you three days to climb the mountain, essentially – one day at the base in the World Heritage-listed Kinabalu National Park to prepare and acclimatise, one day hike to Laban Rata and the final day you complete the summit and return to the base. For me, I now realise, this was too fast an ascent – although I made it to the top, I did suffer from altitude sickness during the final summit and found it very hard. Another day at altitutde would have made all the difference I think, but in a jam-packed tour there wasn't space.
Laban Rata
The guesthouse at Laban Rata was basic, but when you consider that every single item needed to construct, furnish and run the guesthouse had to be carried up that same four-hour hike you just completed, it suddenly seems quite lavish. The views from the guesthouse are stunning, the food is excellent, and all round I was very impressed by my experience there.
The summit was incredible, although as I already mentioned, my enjoyment was somewhat spoiled by the altitude sickness, making me feel dizzy with a pounding headache. Had I started experiencing these symptoms further down the mountain, the guides might have advised I stay behind, but I felt relatively fine until we passed about 4000m. The final ascent was a real struggle, but somehow I made it. Perhaps it was because I was collecting sponsorship for the Orangutan Foundation that I was able to keep going.
We were left behind a little bit by our tour guides at this point, but the amazing mountain guide walked up and down to find us and guide us back to Laban Rata, so I can't complain.
The journey back down the mountain pushed us to our limits. With the guide to help us, we were able to get back to Laban Rata relatively quickly – following each expert step to move smoothly down the mountain. Here we stopped for some breakfast and collected our belongings before the final descent. By this time I was physically and emotionally exhausted, but I knew I had to make it down to my comfortable bed for the night in Poring.
Slow and steady wins the race. We might not have been the first ones down the mountain, but we made it. My knees may never forgive me. It was tough going but morale was good and when we finally reached the base it felt amazing. We collected our certificates and the mini-buses carried our weary (and probably very smelly) bodies the short ride to Poring. We checked in and headed straight out to the main attraction of Poring – the hot spring baths – to soak our aching muscles.
Poring Hot Springs
We had two nights here to rest and relax. Poring is a small town, but as well as the baths (which we visited several times before the day was out), there is are some nice jungle walks, a treetop canopy walk and a fantastic butterfly garden. We spent a wonderful day here recuperating post-Kinabalu.
The next leg of our journey took us deeper into the Jungle, to Kinabatangang and a jungle lodge so remote it can only be reached by river. So remote, it didn't even have wifi. The lodge was fantastic – with a large communal dinner area overlooking the river, and small individual buildings for our rooms. Macaques cavort around the grounds, and hornbills fly over head. From here, we took two boat safaris – one in the evening and the other the following morning. From the river, you have a perfect view of the wildlife on its banks, and as the sun set over the Bornean rainforest, we spotted kingfishers, macaques, crocodiles and hornbills. We even hit the jackpot – wild Chimpanzees; a mother and a baby silhouetted against the fading sky.
Back at the lodge, we headed out once the sun had set for a little night-time jungle walk. This was wonderful, as the guides found us some tree frogs as well as some sleeping birds. (Sleeping birds are the strangest thing – you can shine a torch right in their face and take as many photos as you like and they'll just sleep right through it!). It was very muddy though, as it had rained over night, and being quite a large group we had little hope of seeing any of the shyer wildlife.
We were up shockingly early the next morning – before the sun had come up – for our sunrise boat safari. Although less eventful than the previous night (no Orangutans) we saw plenty of birdlife and it was a very pleasant way to start the day.
Turtle Island
From Kinabangang we drove towards the coast, stopping again to visit a cave on the way. I ducked out of this one, based on my cave experiences in the first half of the tour, but I had a really nice time sat near the entrance to the cave photographing a very obliging lizard, while the others checked out the cave. One the way out, we "stumbled upon" another wild chimpanzee, although the guide admitted this one often hangs out in this area. It was beautiful to see, either way.
That afternoon we took a boat ride across to Turtle island, which thankfully was much less sick-inducing than the last. Turtle island is exactly what you imagine when you think of a tropical island – palm trees and pristine white sand. It was stunning. We spent a lovely afternoon relaxing on the beach and waiting for the main attraction of the island – the sea turtles.
Nestled between Borneo and the Philippines, Turtle island (as well as being a frequent target for stow-aways hoping to make the hop from the Philippines into the wealthier Malaysia) is one of the chosen locations for sea turtles such as Green turtles and Loggerhead turtles to lay their eggs. Here, the huge females drag themselves out of the water, up the beach, and dig a big hole in the sand where they lay their eggs. Turtle island is also one of the locations where conservationists intervene to try and help the turtles do better.
As soon as the female lays here eggs, staff on the island collect them and take them to a special incubation area where the eggs are buried by hand. Later, when the baby turtles are ready to hatch, the staff collect them up in a bucket and carry them to the ocean's edge – helping them get over one of the most dangerous hurdles of their life. As visitors to the island, we got to see the entire process.
The turtle evening begins immediately after dinner. As soon as the sun begins to set, a tension swept across the island. Would we see turtles tonight? When would they arrive? Everyone was on alert, waiting for the call. Some groups have to wait until the small hours of the morning for their turtle experience, but ours arrived at around 9pm. When the call finally came in, we rushed to follow the staff down to the beach and see this amazing thing.
The group of visitors was small enough, around 20 people, but there was still a certain polite pushiness as people excitedly jostled to see the turtle. It was a Green Turtle, and we watched for about half an hour as she laid her eggs in the darkness. It was magical. As each large, white egg squeezed out, a hand reached in and collected it in a bucket. The Turtle was completely entranced in her egg laying and didn't notice a thing.
After the egg-laying was over we left the female too it to fill in her empty hole and head back to sea. We followed the staff back to the main building, and they then showed us the turtle release. We carried the tiny baby turtles in buckets down to the waters edge and then released them a couple of metres from the water and watched as they frantically marched into the ocean. It'll be a decade or more before these turtles are seen again by humans, hopefully when they return to the island to lay their own eggs.
The next day we returned to the mainland and to Sandakan. From here, we drove to the Sepilok Orangutan Rehabilitation Centre, where we had the afternoon to explore the sanctuary and the neighbouring Sun Bear sanctuary. The set up was similar to Semmengoh, and we were able to walk through the Orangutan feeding areas. The Orangutans here are a different sub-species to those in Sarawak, however, and their coats were noticeably darker.
For me, the real highlight here was the Bornean Sun Bear Conservation Centre. Sun Bears are incredible creatures – with a gentle disposition and friendly face. The centre rescues and rehabilitates orphaned Sun Bears, and those that have been kept and mistreated by humans. But even here, the Sun Bears didn't get centre stage. The macaques, with their inquisitive, boistrous nature, inevitably stole the show. One female was particularly bossy – she posed for about 10 minutes on one of the railings of the visitor centre, and when our attention was distracted by a Sun Bear, she climbed onto the roof and started throwing sticks!
Our final stop on the tour was a trip to Sandakan Memorial Centre, where we learned about some of the atrocities that occurred here during the second world war. It was a sobering experience. From there, we drove on to Sandakan Airport where we took an internal flight back to Kota Kinabalu. This time, we didn't stay in the city though, but drove out to a beach hotel a little further out of town. Me and my friend opted for an afternoon wandering around the markets in Kinabalu and took a taxi back in time for dinner by the sea for our final night.
Highs and Lows of the Tour
I may have been sceptical of organised tours in the past, but this one was the best choice I could have made. Travelling with Intrepid meant I could see far more than I would have managed alone, and made it safe to visit some of the more remote parts of the Island. Not only that, but the expertise and insight of the guides added to the experience immeasurably. For me personally, the lowest moment of the trip was the three-hour soaking longboat ride; the absolute best moment was seeing wild Orangutans in Kinabatangang. Thanks, Intrepid! (And thanks to Ronnie and Donnie, and my fellow group members, for making it an unforgettable experience!).